Media Center
Awards & Certifications
2023/11
Taiwan

CTCI Plays a Role in Facilitating Green Transition of the Petroleum Industry, Group Chairman Honored with "Kai-Ying King Memorial Award"
Taipei, November 17, 2023 - CTCI, a leading engineering, procurement and construction (EPC) project contractor in Taiwan and one of the top 100 globally, is a pioneer in Taiwan's refining and petrochemical engineering sector. The Group has dedicated itself to providing the most reliable engineering services globally. Under the leadership of Group Chairman John T. Yu and his team, CTCI has made substantial contributions to Taiwan's refining and petrochemical industries, advocating for a green transition and striving for net-zero practices. GC Yu's exceptional achievements were recognized with the prestigious "Kai-Ying King Memorial Award" by the Chinese Petroleum Institute, presented by Wen-Yan Pan, Chairman of the CTCI Foundation, on November 17.
The "Kai-Ying King Memorial Award" was established by the Chinese Petroleum Institute in honor of its founding chairman, Mr. Kai-Ying King, with the aim of acknowledging individuals who have made significant contributions and achievements in the petroleum industry. Group Chairman Yu, with over 50 years of involvement in the engineering field, has led CTCI through various significant projects, from the early stages with CPC Corporation's Taoyuan Refinery to subsequent involvements in various essential constructions such as the second, third, fifth, and sixth naphtha cracker projects. He has successfully integrated foreign technologies in Taiwan and played a crucial role in advancing Taiwan's economy.
In recent years, amidst the challenges posed by global sustainability goals and achieving net-zero emissions, industries like refining and petrochemicals have faced considerable impacts due to high carbon emissions. Group Chairman Yu expressed CTCI's commitment to continue Mr. King's legacy of serving the country through engineering and emphasized the responsibility to lead the industry. CTCI aims to create green engineering and low-carbon supply chains, actively pursuing net-zero carbon emissions, thereby accomplishing successful transformation.
Throughout more than four decades of development, CTCI's services span across various engineering fields, including refining, petrochemicals, environmental engineering, power, transportation, general industry, high-tech facilities, and liquefied natural gas. The Company's consistent delivery of the most reliable engineering service quality has garnered repeated trust from renowned domestic and international clients, solidifying its position as a dependable partner. Its engineering accomplishments extend across Asia, the Middle East, and the Americas, making CTCI the sole Taiwanese engineering firm capable of competing globally alongside European, U.S., Japanese, and Korean counterparts. Looking ahead, CTCI is committed to being the "most reliable global engineering services provider," creating engineering constructions that balance economic and environmental aspects, leveraging engineering expertise for the sustainable development of our planet.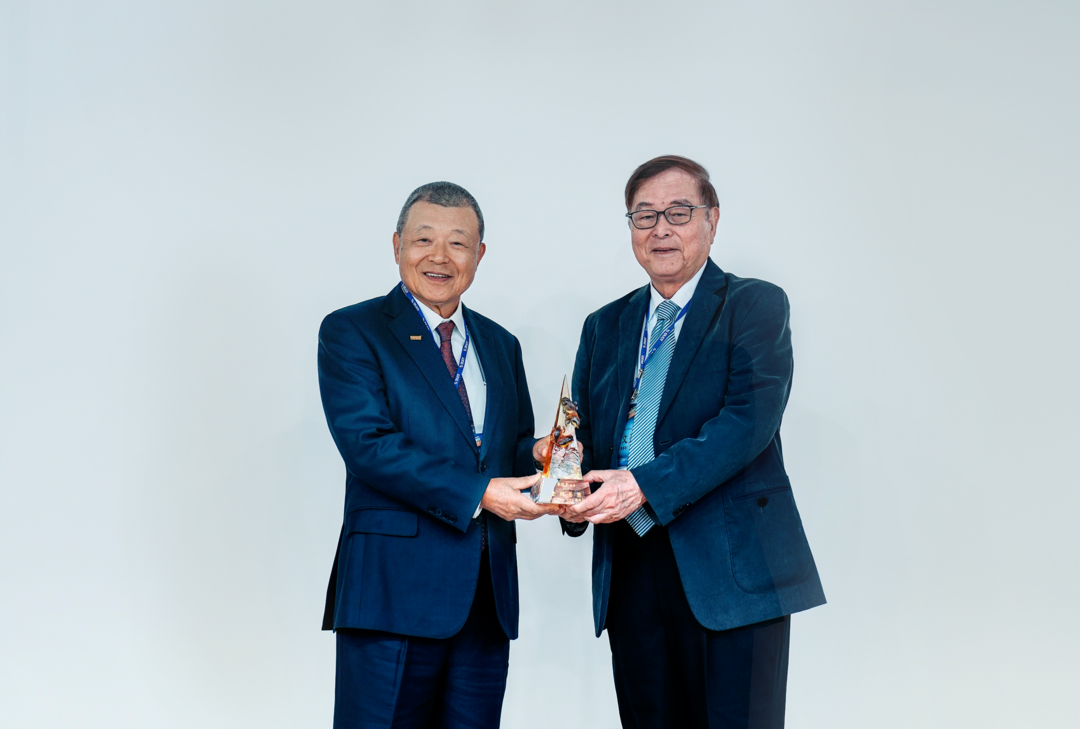 CTCI Group Chairman John T. Yu (left) receives the "Kai-Ying King Memorial Award" from Wen-Yan Pan, Chairman of the CTCI Foundation.