Products

Stationary Equipment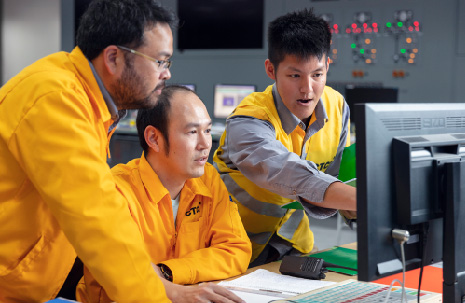 A world-class fabrication unit with decades of experience working with customers to manufacture high-quality equipment.
    
CTCI has almost three decades of experience fabricating a range of equipment to customer specification for the hydrocarbon, industrial, and power markets, particularly the nuclear industry. Our two workshops in the south Taiwan port city of Kaohsiung offer highly professional services, with one focused on pressure vessels, piping pre-fabrication and heat exchangers including the use of monel alloy, high nickel, copper-nickel, aluminum, titanium and zirconium; and the other specializing in non-pressure parts such as pre-fabricated parts of package equipment.

Our team is capable of manufacturing a wide range of equipment based on design data and specification provided by the customer, and in keeping with the ISO9001 quality standard, and ASME and Pressure Vessel Codes. The workshops are also experienced in developing fabrication methods to drive down costs and improve efficiency, either in our own shops or at the customer's worksite depending on the size of the equipment. 

Our teams of professional engineers can also assist with engineering work including basic design, equipment sizing, engineering and shop drawings, etc., and are available to perform equipment inspections/revamping, plant shut-down inspections, and plant maintenance work on request.
Our specialist areas of knowledge include but are not limited to: 
Towers and drums
Heat exchangers
Air coolers
Reactors
Thermo plates
Surface condensers
Silos
Cryogenic storage tanks
Heaters and furnaces
Ducts and stacks
Cold boxes
HRSG for power plant
Facilities for nuclear power plant
RPV internal components assembly and welding
Nuclear spent fuel transportable storage canister
Piping prefabrication and installation
Heavy pressure vessel lifting
Large storage tanks
For further information on CTCI's Stationary Equipment, please inquire directly:
Tel: (886)7-315-1011
Fax:(886)7-313-7971
E-mail: ctcim@ctci.com