Media Center
News Releases
2023/04
Taiwan

Prioritizing Quality and Work Safety, CTCI Makes Steady Progress in Chungli Sewerage Treatment Project
Taoyuan, Apr. 19, 2023 – The first phase for Chungli Sewerage Treatment Project contracted to CTCI & HDEC Water Business Corporation (CTCI & HDEC WBC) is scheduled to be completed and become operational in September this year. Simon Chang, Taoyuan City Mayor, makes on-site visit today which involves going 6 meters deep underground to check the completed sewerage pipeline with a diameter up to 135cm and meet the construction site personnel at work in person. 
The project was contracted to CTCI & HDEC WBC, a concessionaire established by CTCI Corporation (CTCI) and Hsin-Dar Environment Corporation (HDEC), solely for the project implementation. 
Mayor Chang offers appreciation for the hard work of construction personnel on site, and gives recognition to the excellent construction quality and safety record. 
Chungli sewerage system project is one of the most important public infrastructure in recent years, from the perspective of the scale and amount of people it serves. The Water Resource Recycling Center, categorized under the first project phase and which is now under construction, will be operational this September. With a concession period of 35 years, the full treatment capacity is expected to reach 156,800CMD, along with 246KM of sewerage pipelines, will be completed in 2040. Water treated will become sources for reclaimed water, effectively easing water strain caused by extreme weather conditions. 
Simon Chang, Taoyuan City Mayor said, "The project construction schedule is now reaching closer to Chungli City, and the pipeline currently under construction at Xinsheng Road section is the major artery of this project. Branch pipeline will be conducted in the following stages. To ensure the quality and safety of construction works, our City Government requests contractors to strictly implement safety measures, and monitor on-site status through photos and videos provided by contractors on a daily basis. Meanwhile, our Facebook fan page posts sewerage pipe construction plan for the next week in advance, so that road users are reminded to make a detour to avoid the roadworks. Through efforts in traffic maintenance, stringent construction management, and transparent construction information, we hope to minimize the inconvenience to citizens."
Ming-Shyan Lee, Chairman of CTCI & HDEC WBC, and President of CTCI Corp.'s Infrastructure, Environment, and Power Business Operations (IEPBO) states, "Sewerage system is one of the key infrastructure for urban development. Thanks to the full support of Taoyuan City Government, we are confident to achieve the set targets on time and to quality. With a construction period of 19 years, our project team established a Geographic Information System, which allows clear views of sewerage pipes that are completed, under construction, or to be constructed. We made precise study in each pipe section and user background, hoping to finalize household connection pipes in the shortest time possible. The ultimate goal is to assist the city government to serve approximately 200,000 households in Chungli, Pingzhen, and Dayuan regions to treat wastewater, and improve the water quality of Laojie River and Xinjie River, as well as quality of living for residents."
CTCI, with a vision to become "a guardian of sustainable Earth," has 40 years of experience in water resource treatment. In recent years, it is keen on the opportunities of water resource in the context of circular economy and has successfully expanded business to wastewater reclamation, from industrial, municipal sectors to that for high-tech plants owners. In terms of performance in sewerage treatment systems, CTCI has built solid track records throughout Taiwan. The fully developed sewage treatment systems helps foster urban modernization, improving the water environment. CTCI is committed to delivering the most reliable engineering quality and green engineering practices, contributing a share for environmental protection, construction, and economic development.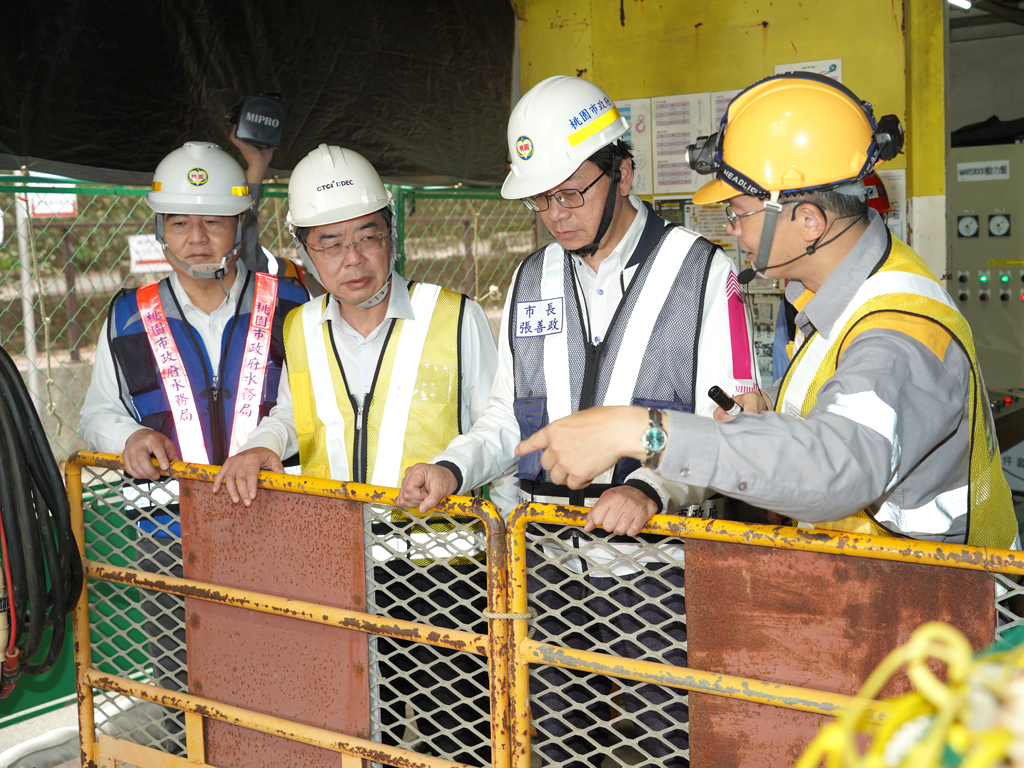 On-site inspection in progress. 2nd from right: Simon Chang, Taoyuan City Mayor; 2nd from left: Ming-Shyan Lee, Chairman of CTCI & HDEC WBC, and President of CTCI Corp.'s Infrastructure, Environment, and Power Business Operations.