CTCI Builds a Model City for Reclaimed Water
Taiwan's First Municipal Sewage Recycling Plant – Fengshan River Reclaimed Water Plant BTO Project
Market:

Environmental

Owner:

Kaohsiung City Government

MC date:

Aug. 2018 (Phase 1), Aug. 2019 (Phase 2)

Location:

Fengshan District, Kaohsiung City

Scope:

EPC+O&M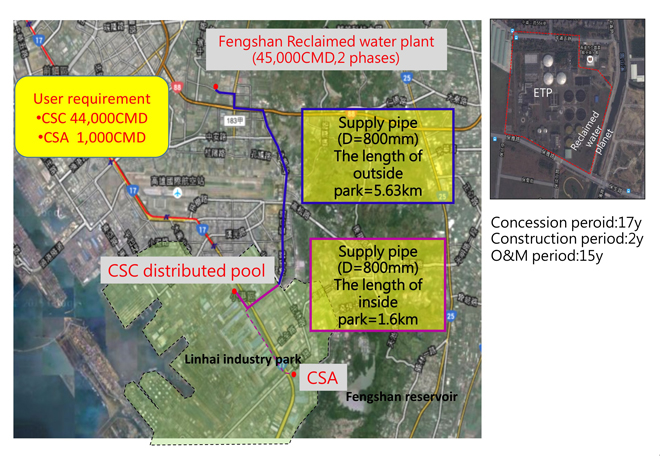 Project Scope.


Water as a resource is scarce in Taiwan. Although there is much rainfall, its high mountain and steep rivers make it difficult to retain water. Considering that a water shortage issue will also affect industry development, the government has been developing multiple water resource projects in Taiwan, with the focus shifting from promotion of water resource economization to water reuse and recycling. The Fengshan River Reclaimed Water Plant BTO Project is well founded according to the "Act for Promotion of Private Participation in Infrastructure Projects" which combines the finance, technology, and efficiency of the private sector to build the first demonstration city with a stable supply of reclaimed water, which is being supplied to Linhai Industrial Park in Kaohsiung.

This project, built and operated by Blue Whale Corporation (BWC), a Special Purpose Company formed by CTCI Corp. and HDEC Corporation, is the first of six reclaimed water demonstration plants to be constructed in Taiwan. The first phase to supply 25000CMD to Linhai Industrial Park was completed on August 23, 2018. The second phase was completed exactly a year later and successfully supplies 45000CMD to the same park. The users at Linhai Industrial Park recognize that the quality of reclaimed water is better than tap water, enhancing the government's confidence to increase the percentage of reclaimed water use and implement similar water reclamation projects in Linhai, Yongkang, Anping, Futian and Fengyuan.


Why CTCI ?
Innovative thinking, precise schedule and quality control
At the evaluation stage, CTCI raised the key point that ammonia nitrogen and nitrate nitrogen should be reduced before entering the reclaimed water plant to ensure a stable supply and the safety of reclaimed water. The proposal won the affirmation of the Owner and Water Resources Bureau Kaohsiung City Government. CTCI's credibility built over the years and precise control of schedule and quality was the deciding factor for winning this project.

Reliable Realized
Making the Project Goal the Team's Goal, Creating a Triple-Win
Phase 1 of this EPC project needed to be completed in 2 years within a limited space of 0.7 hectare. Further challenge came in the form of the 7.23km underground pipeline outside the park, which had to be avoided. The complex interfaces involved in resolving this issue included land rights and utility conduits for electricity, gas, tap water, sewerage, and telecommunications, all of which added up to a serious challenge.

On top of that, project implementation is invariably accompanied by disagreements between the contractor, Project Construction Management (PCM), and the owner. However, a philosophy of "one team, one goal" was kept in mind by the different parties. This resulted in the project team being able to achieve the final goal without any loss or serious conflict, creating a triple-win situation.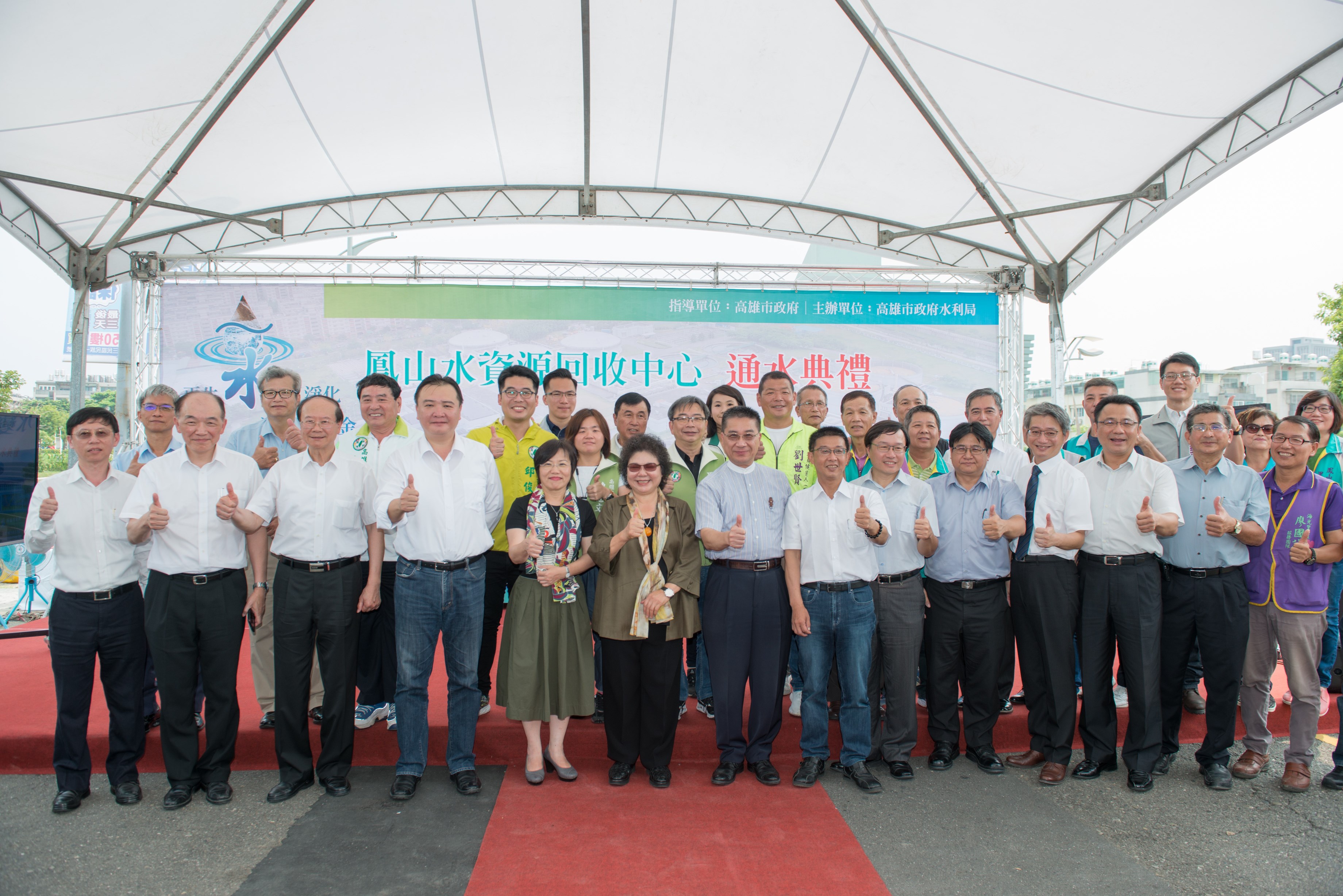 Opening ceremony of reclaimed water plant. Front row: Secretary-General to the President Chen Chu (6th from left), Minister of the Interior K.Y. Hsu (7th from left), and Deco T.K. Li (far left) of Group Engineering Business, CTCI.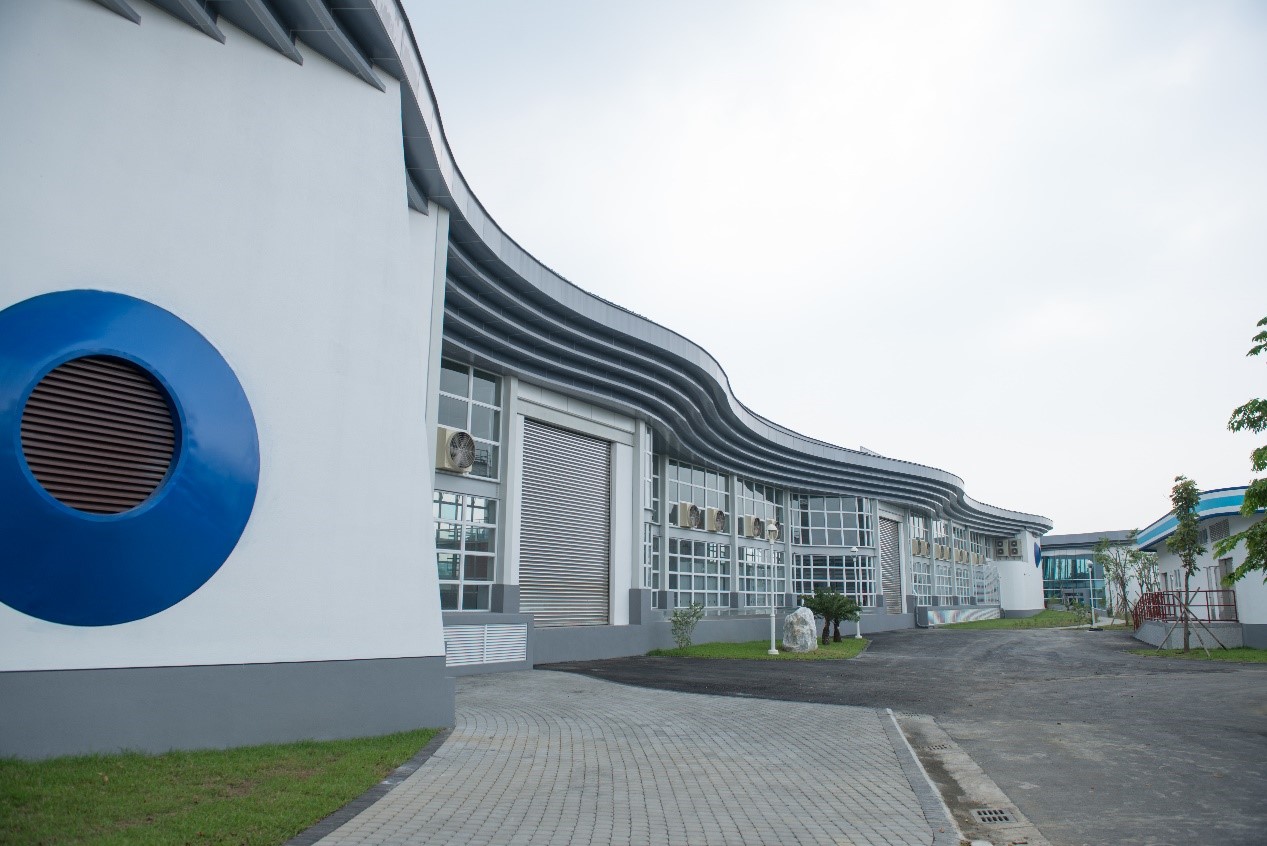 Exterior of Reclaimed Water Plant.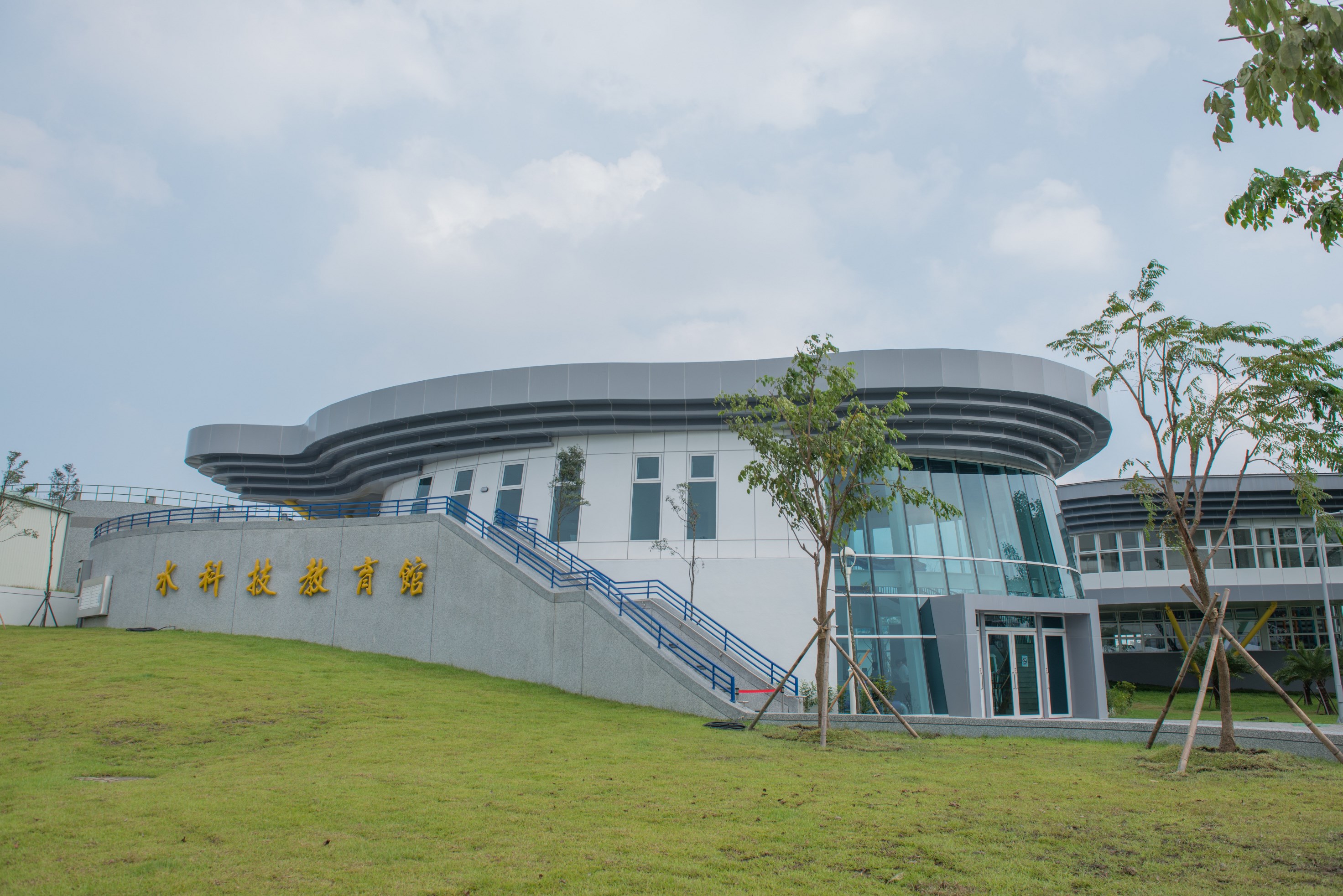 Water Technology Education Center.


Technical Matters
Use of AO system to upgrade effluent treatment plant capability


Apart from a new reclaimed water plant and water supply pipelines to Linhai Industrial Park, the project scope includes revamping work for the existing effluent treatment plant. The team upgraded the bio-system to an AO system that reduces the concentration of ammonia nitrogen and nitrate nitrogen, ensuring the concentration of RO meets the standards for effluent.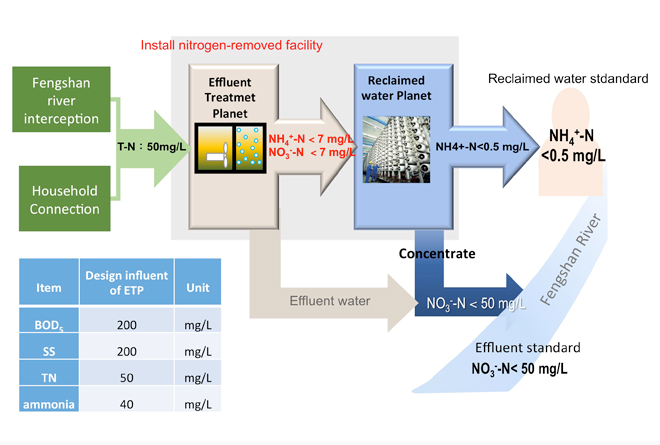 AO system application in existing effluent treatment plant.
Furthermore, the project team had to carefully consider whether or not to set up a Rapid Filter System as a pre-treatment facility for RO during the bid preparation process. Even relaimed water plants like those in Singapore do not utilize Rapid Filter System for pre-treatment, since no failure could be tolerated. Eventually, in a first for Taiwan, the team adopted a Rapid Filter System and Ultra Filtration (UF) in the reclaimed water plant as double protection to ensure the quality of influent water. In fact, it has proven useful after one year of operation.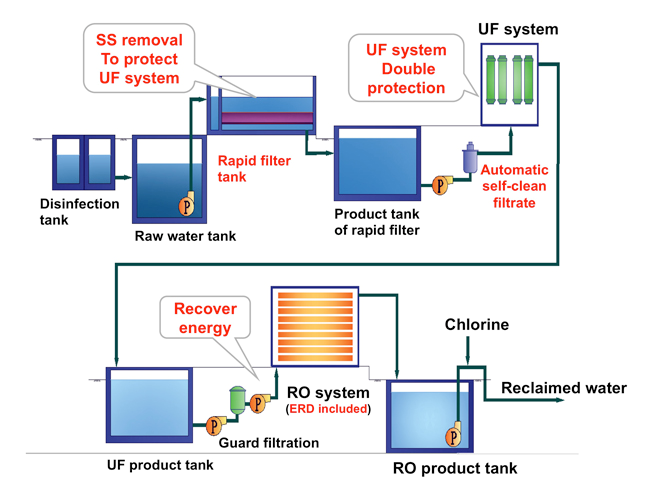 Reclaimed water process.
Smarter Engineering
Efficiently use waste heat from boiler for dryer
The project scope consists of two years of plant construction and 15 years of O&M work. Enhancing energy efficiency is particularly important considering the O&M component. At the second stage of RO, we first adopted the ERD (energy recovery device) to recover the pressure of second stage RO concentrate instead of utilizing boost pump. This resulted in an increase in power saving efficiency by  10-15%.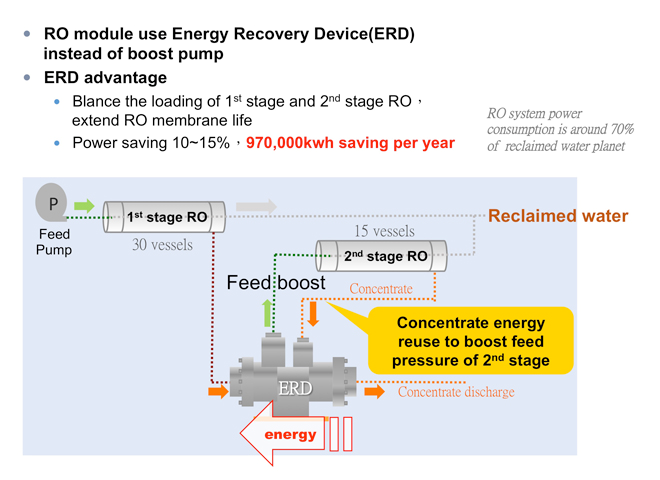 ERD device.
The cost of treating sludge in existing effluent treatment plants accounts for approximately 11% of total cost. To reduce this cost, another innovation of the project is to recover the waste heat from the boiler and use it to heat the dryer used to dry the sludge. This waste heat recovery has greatly improved the energy use efficiency.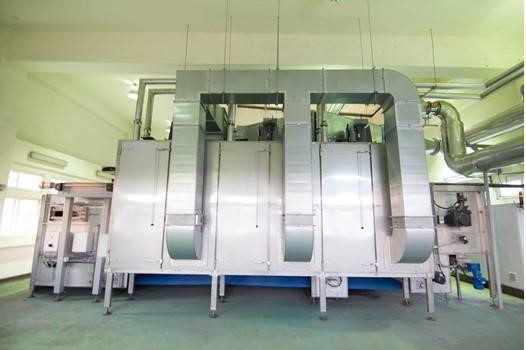 Hot air dryer.
---
Due to extreme climate change, it is a must to develop multiple water resources. This project overcomes many challenges like supply pipe installation and renewal of the existing effluent treatment plant by the JV team, CTCI and HDEC. We are thankful for their joint effort to transform Fengshan effluent treatment plant into Fengshan Water Resource Center.



– Water Resource Bureau Kaohsiung City Government, Deputy Chief Engineer C.Y. HUANG

---